Nothing stops your heart quite like the terror that your pet has gone missing. If your pet goes missing, it's vital to take immediate action – the longer you wait, the harder it can be to locate your precious furbaby. Getting word out as soon as possible will help ensure that your pet is found sooner rather than later. In the event that your pet goes missing, you don't want to wait to see if they will find their way back before you start searching. Here are some of the things that you can do if your pet goes missing.
#1. Help Them Find Their Way Back
Your dog or cat has a very good sense of smell. In the event that they get lost, they can smell their way home. Put something that has your scent outside of your door, i.e. a blanket, and they can smell it and find their way home. You can put out a cat's litter box for them to smell. Especially if your pet is new or if you just moved, your pet may just need a little help finding their way back to you, which this can help with.
#2. Sweep The Neighborhood
If your pet escaped your home, they may not have gone far. You can sweep your neighborhood and the surrounding area, calling out their name with a tasty treat in hand that will lure them to come to you. Searching your neighborhood a few times daily until your pet is found may help you find them if your pet goes missing.
This depends on your pet's personality, too. If your indoor cat sneaked out, chances are that they are frightened and will be hiding within a radius of a few houses away. If your furbaby is outgoing, they could have made friends and traveled much further away.
#3. Contact Local Animal Shelters And Animal Control
It's not uncommon for someone to report a missing animal for animal control to come pick up, or to take your pet to a local animal shelter or animal hospital. As such, it's important to ensure that your pet is microchipped, so that it's easier to find them. You can alert your microchip company if your pet goes missing so that they can flag them as lost. You can search for your local shelters and check on their sites to see if they've posted any pictures of a lost pet that looks like yours.
You can also control your local animal control and give them a description of your pet. If you fear that your pet has been stolen rather than gone missing, you can contact the police.
#4. Involve Your Community
One of the most effective things to do if your pet goes missing to find them faster is to involve your community. Many sets of eyes are better than one. You can post on social media with a notice of your missing pet, including local lost and found groups in addition to your personal accounts. You can also go on national databases such as Petco Love Lost, your homeowner's association, and lost and found sections of sites like NextDoor to post a notice of your lost pet and see if anyone has found yours.
You can also put flyers around town, such as your neighborhood, on telephone poles, in stores, in community centers, and other locations. Your fliers should have a clear, big, accurate picture of your pet in color, they name, sex, age, breed, color, weight, and identifying characteristics, as well as a phone number. If your pet needs special medication or you are offering a reward, these are important to include. Keep it simple, and post your flyers where it's easy for people to see them.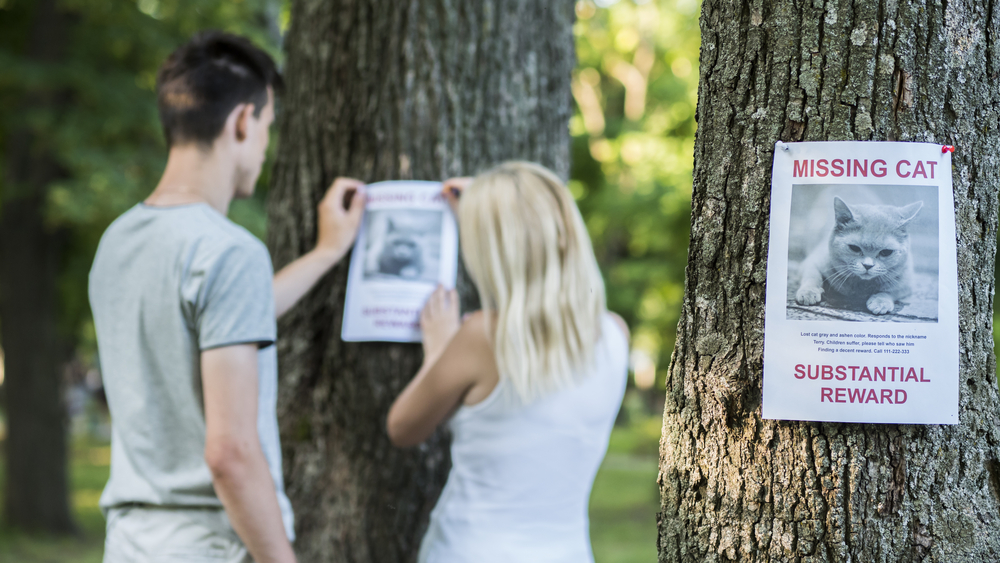 You'll want to leave out at least one defining characteristic, as there are pet recovery scams who will demand you give them money before they give you your pet. If someone claims to have found your pet, ask them to describe them, and listen for that characteristic you left out. Ask for a picture if they don't mention it, and if they refuse to, know they might not really have your pet.
#4. Be Persistent
While the first few hours after your pet goes missing are vital, pets have been reunited with their owners months after having gone missing. Continually check in with your shelters and humane societies, repost online, and don't give up. With how connected the world is, it increases the chances that your pet will be returned to you.
What Helps If Your Pet Goes Missing
There are things you can do to make it easier to find them again if your pet goes missing. Microchipping them, using a GPS collar, and ensuring that your pet has a collar with a tag that has your information on it will all help increase your chances of finding your pet. Training can prevent any escapes, as well as help your pet return to you.
Skyline Animal Hospital wants to help you find your pet if they go missing. Contact us for more information on what you can do if your pet goes missing.